Landover, MD.- SUZOHAPP, pemimpin dunia dalam pembuatan dan distribusi produk permainan, hiburan, dan taruhan olahraga, mengumumkan pemasangan pertama terminal taruhan olahraga swalayan di Fanatics Sportsbook yang baru dibuka, yang pertama di dalam stadion NFL, di FedExField di Landover, Maryland.
Todd Sims, Vice President of Sales Americas untuk SUZOHAPP berkomentar, "Fanatics Sportsbook memiliki momentum yang luar biasa dan sedang membangun reputasi yang hebat dengan konsumen di industri olahraga. Kami sangat yakin mereka akan sangat sukses dalam mengubah penggemar olahraga menjadi petaruh olahraga dengan menciptakan pengalaman taruhan yang lancar menggunakan perangkat keras kami."
Fanatics Sportsbook membentang seluas 5.000 kaki persegi dan menampilkan delapan jendela taruhan, 21 kios taruhan swalayan SUZOHAPP, 2 Dinding Video LED raksasa, 38 monitor TV, dan restoran layanan lengkap dengan pilihan makanan yang akan dinikmati setiap penggemar olahraga. Sportsbook berdiri di samping Toko Tim Komandan Washington, yang juga dioperasikan oleh Fanatik, membangun pengalaman penggemar super sejati. Sekarang di satu lokasi, penggemar dapat memasang taruhan olahraga, membeli merchandise tim, dan menonton pertandingan dalam suasana olahraga terbaik.
"SUZOHAPP telah menjadi bagian integral dari perjalanan kami ke pasar ritel taruhan olahraga," kata Ari Borod, Chief Business Officer, Fanatics Betting and Gaming. "Terminal taruhan SUZOHAPP tampak hebat sambil memberi pelanggan kami pengalaman taruhan olahraga tingkat atas dan kami berharap dapat membawa perangkat keras mereka ke lebih banyak lokasi ritel Fanatics Sportsbook di seluruh negeri akhir tahun ini."
SUZOHAPP menawarkan ekosistem lengkap produk taruhan olahraga untuk menyesuaikan dan mengotomatiskan seluruh siklus taruhan untuk taruhan olahraga, mulai dari kasir, taruhan, hingga pembayaran.
"Masa depan dengan Fanatics Sportsbook terlihat sangat cerah dan kami sangat bersemangat dengan kemitraan kami dan kesempatan untuk menampilkan kualitas superior dan pengalaman pengguna dengan perangkat keras kami dengan mitra yang luar biasa saat mereka meluncurkan sportsbook mereka secara nasional," kata Sims.
Informasi tambahan tentang terminal taruhan olahraga SUZOHAPP dapat diperoleh melalui situs web.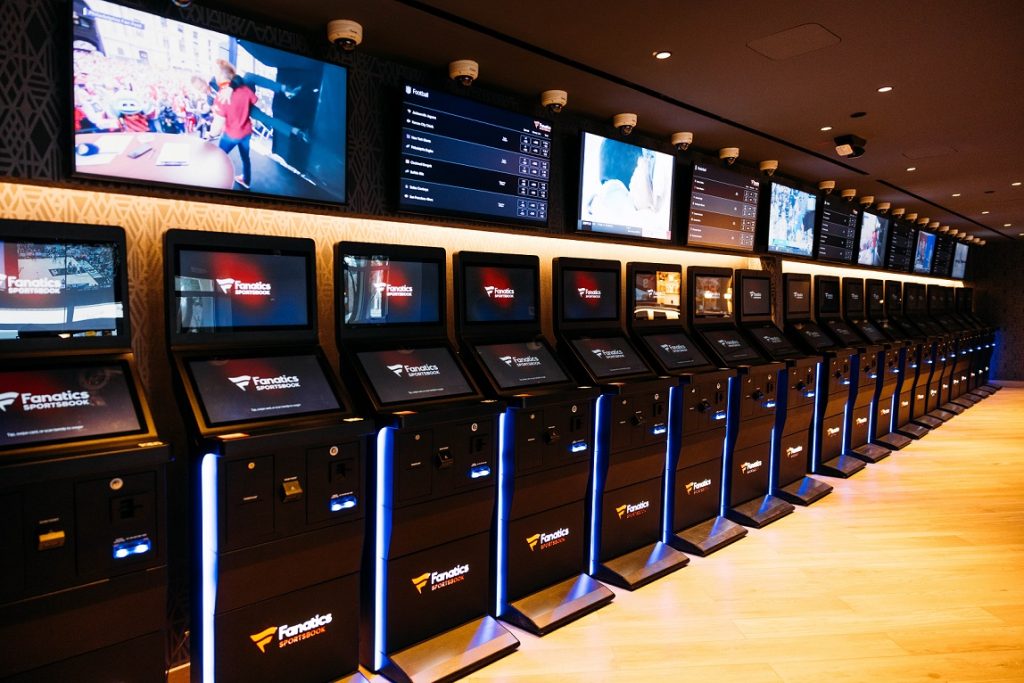 Tentang SUZOHAPP
SUZOHAPP adalah pemimpin dunia dalam produksi dan distribusi produk permainan, hiburan, dan taruhan olahraga. Melayani operator dan OEM selama lebih dari 60 tahun, SUZOHAPP membawa portofolio besar komponen yang tersedia untuk distribusi langsung dan untuk mengembangkan solusi yang dibuat khusus. Informasi lebih lanjut, bersama dengan katalog komponen, tersedia di www.suzohapp.com. SUZOHAPP dimiliki oleh afiliasi ACON Investments, LLC, sebuah firma investasi ekuitas swasta internasional berbasis di Washington, DC yang memiliki tanggung jawab untuk mengelola sekitar $5,5 miliar modal. Untuk informasi lebih lanjut, kunjungi www.aconinvestments.com.