LOS ANGELES, CALIFORNIA, (27 Maret 2023) – Jaringan Podcast Perjudian Olahraga, platform konten pilihan dan analisis taruhan olahraga gratis terkemuka, akan menyelenggarakan SGPN Live – Pesta Tontonan Empat Final di Saluran YouTube SGPN Sabtu, 1 April , mulai pukul 6 sore ET/3 sore PT.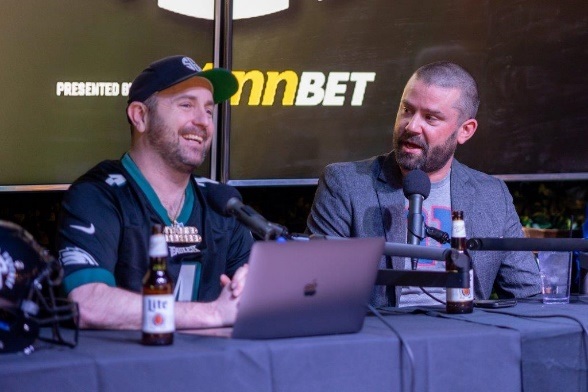 Sean Green (kiri) dan Ryan Kramer di Superb Bowl LVII Radio Row. (foto SGPN)
Kepribadian SGPN Sean Green dan Ryan Kramer plus pakar bola basket perguruan tinggi Colby Dant akan mengadakan pengadilan saat para pengikut bergabung melalui smartphone dan laptop, menawarkan analisis dan komentar khas mereka untuk pertandingan semifinal nasional. Ketiganya juga akan memberikan saran taruhan langsung dalam game kepada para peserta untuk kompetisi yang menampilkan San Diego State Aztecs, Florida Atlantic Owls, Miami Hurricanes, dan Connecticut Huskies.
Streaming langsung akan bersifat interaktif dengan pemirsa yang diundang untuk mempertimbangkan dengan komentar, saran taruhan, dan pertanyaan dalam format yang mirip dengan Podcast Perjudian Olahraga dan Podcast Pengalaman Bola Basket Perguruan Tinggi. Tamu istimewa dari sejumlah podcaster dan kontributor SGPN akan muncul selama dua pertandingan, yang akan disiarkan di CBS. Konten YouTube SGPN akan mencakup saran, analisis, dan reaksi taruhan langsung dan paruh waktu dari Green, Kramer, dan Dant, yang termasuk di antara sedikit handicappers nasional yang pemecahan dan prediksinya bebas biaya, sepanjang waktu di platform digital SGPN.
"Seiring berkembangnya dunia taruhan olahraga, audiens kami dan teknologinya juga memungkinkan kami untuk terhubung secara langsung dalam waktu nyata untuk membantu penggemar menikmati permainan dari perspektif taruhan olahraga," kata Green, CEO SGPN. "Kami telah menjadi tambahan yang disambut baik untuk ruang keluarga dan mancave dengan konten kami yang menghibur dan tanpa biaya selama 11 tahun terakhir. Sabtu akan menyenangkan. Semua orang diundang."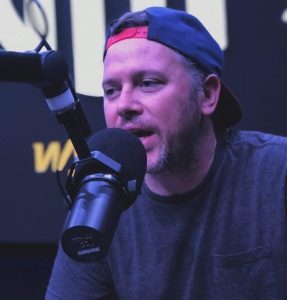 Colby Dant, SGPN, Pakar Bola Basket Perguruan Tinggi (Foto SGPN)
Green dan Kramer meluncurkan SGPN lebih dari 10 tahun yang lalu dan menjadi pembawa acara bersama acara andalan jaringan tersebut, The Sports Gambling Podcast. Duo ini telah membangun SGPN menjadi jaringan taruhan olahraga gratis dan independen terkemuka di negara ini. Dant menyelenggarakan kedua podcast perguruan tinggi populer SGPN, The College Basketball Experience dan College Football Experience. Dia mempratinjau setiap tim sebelum awal musim dan podcast hariannya menawarkan analisis dan wawasan taruhan ahli di setiap tim.
Dengan lebih dari 60 kontributor dan lebih dari 30 podcast, perusahaan yang berbasis di LA ini meliput setiap acara olahraga besar yang dapat dipertaruhkan di dunia, menawarkan konten taruhan yang menghibur dan akurat untuk jutaan orang di berbagai outlet yang tersedia. SGPN melihat rekor 8 juta unduhan tahun lalu dan sudah melacak peningkatan 15 persen dari tahun ke tahun.
APA: SGPN Live – Pesta Tontonan Empat Final
Sean Green, Ryan Kramer, Colby Dant menyelenggarakan pesta Final Four streaming langsung yang interaktif. Semua diundang.
KAPAN: Sabtu, 1 April pukul 6 sore ET/3 sore PT
DIMANA: Saluran YouTube SGPN Kunjungi YouTube.com dan cari SGPN
Terhubung dengan SGPN di Facebook, Twitter, Instagram, YouTube